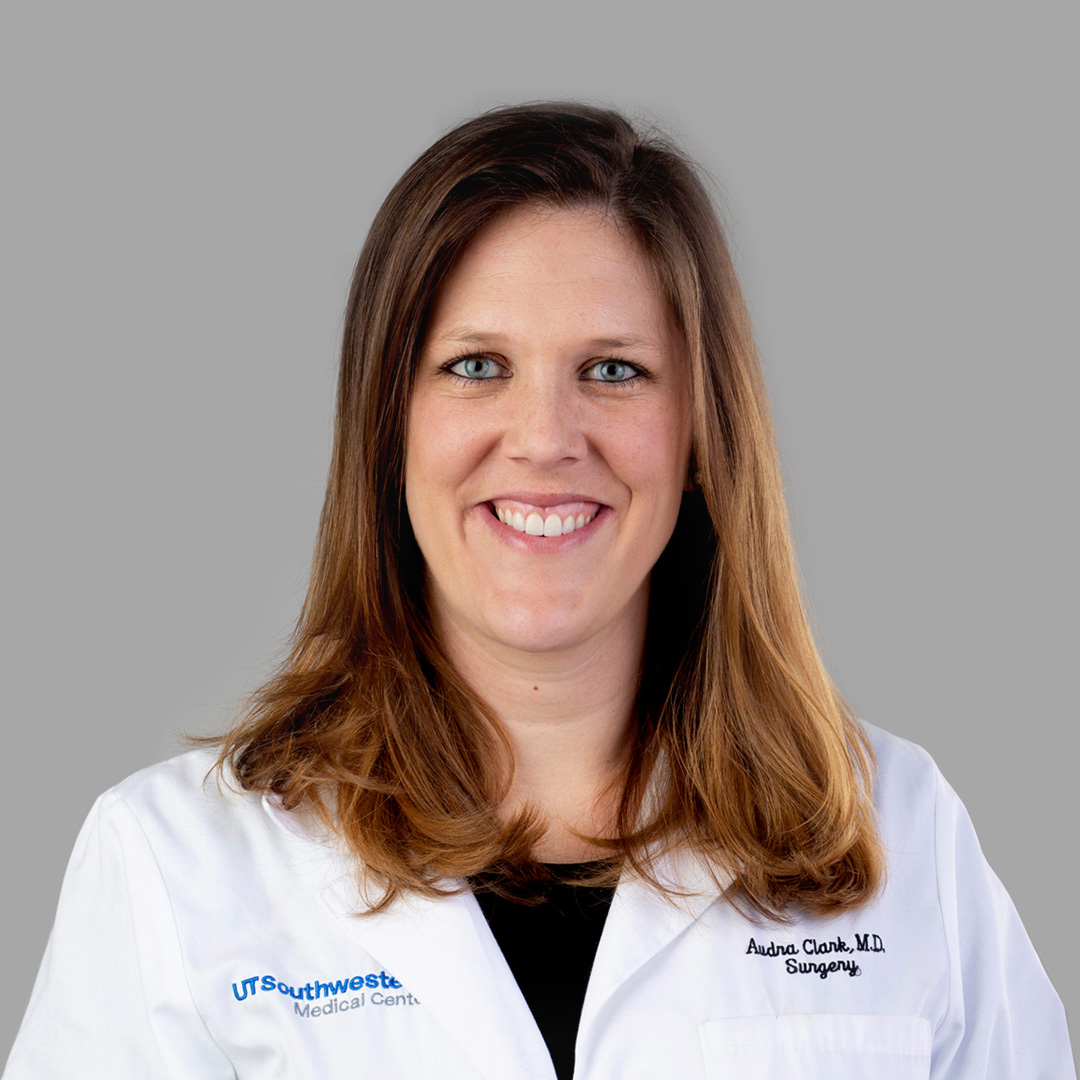 The Big Voice
Dr. Audra Clark
Sons of the Flag Burn Fellow
ONE MORE BURN SURGEON IN THE WORLD
Despite the extent of burn injuries and great need for burn care in the US, there are less than 200 accredited burn surgeons across the country. This statistic is no surprise to Dr. Audra Clark, a fifth-year surgery resident at UT Southwestern Medical Center.
Having completed extensive rotations in the burn center, Dr. Clark can speak insightfully to some of the reasons for this shortage. "Firstly, across the country there are surgical residents who are never even exposed to burn surgery training. If you're at a residency that doesn't have a burn center, you may never see it or get to know that you might be interested in it. So, Sons of the Flag funding medical and research fellowships really opens up the chance for more people to be exposed to the opportunity. I think another reason is that it's extremely emotionally and physically demanding as a specialty. You have patients critically ill in the hospital for months at a time, and there's a lot of family support and patient support that needs to happen because these injuries can be devastating. You have such an intimate and intense connection with your patient, which is something I love but not all people are drawn to." She recalls a previous patient, a badly burned 14-year-old girl. "I became close with her over her time in the burn unit, I was able to be with her while she was in ICU, then all the way through rehab. Now they send me a picture every year on her first day of school. She's doing great, she's now 18 and about to go off to college. To be able to save people and get them through to relative normalcy, then to see them thriving in life, is an incredible privilege."
Dr. Clark also notes the physical demands peculiar to burn surgery. "Burn patients have lost their skin barrier which is what, in other patients who go into surgery, can help keep them warm and their temperature regulated. So because burn patients can get cold very easily we keep the operating room at about 95ᵒF. Then we put on our gowns, we're under hot lights, it's physically exhausting doing that for seven hours a day."
After her third clinical year, Dr. Clark pursued a two-year research fellowship focused exclusively on burn research. Her fellowship was fully funded by Sons of the Flag. Dr. Clark's major projects included studying burn-related acute kidney injury, as well as looking at muscle regeneration after a burn injury. "Because of the extreme inflammatory response that happens after a burn, burn patients can lose up to 30-40% of their lean muscle mass, which is extremely debilitating. So that was a really big area of research nationally because all over the country we're trying to figure out if there's a way we can help with cell regeneration, and also possibly slow the cell death in order to minimize the muscle loss that burn patients experience, which would be very helpful during their recovery." Dr. Clark's projects resulted in over 15 publications in medical journals, with her findings disseminated to burn care specialists around the world.
Dr. Clark witnessed Sons of the Flag's work with the burn community firsthand, prior to connecting with them regarding her research fellowship. "I'd heard of Sons of the Flag from burn patients, and I'd seen them come into the hospital and support patients. They also do wonderful things like bring snacks for our staff to help keep our morale up because it's so emotionally taxing on everyone involved in taking care of these patients. Then I was officially introduced through Dr. Steven Wolf, he'd been working with Sons of the Flag so he made the connection for us when he knew I had an interest in doing burn research. It was very fortuitous."
Dr. Clark cannot overemphasize the importance of pursuing research, and the value of research discoveries and breakthroughs for the global medical community. "The way we currently care for burn patients is very different to how we cared for burn patients 30 years ago; we're getting so much better at it because of research that's been done in the past. My hope is that we keep moving forward with research and all share our results so that we can keep getting better at taking care of our patients." It was during her research fellowship that Dr. Clark decided to pursue burn surgery as her specialty. She begins a burn surgery fellowship next year, and hopes to stay on as a burn surgery attending afterwards.
Dr. Clark reflects on the significance of having Sons of the Flag invest in her, thereby nurturing and elevating her ability to positively impact burn survivors in her community, as well as the progress of burn care around the world. "It means everything. The fact that I feel so supported by Sons of the Flag; that they have invested these incredible resources in me—in my future—makes me feel humbled and also responsible. I want to pay that forward as much as I can. I don't take it lightly or take it for granted that I have people who have supported and backed me to get me here. The way to "repay" Sons of the Flag is to pay it forward to all of these burn patients. I'm happy to know that Sons of the Flag is in the world providing all of this extra support and care for burn patients. We do all of the medical stuff and provide the emotional support that we can while they're in the hospital, but to know that there's an organization like Sons of the Flag helping patients during and after, and filling gaps that the medical system can't provide patients, is incredible. I hope to stay involved with Sons of the Flag for a long time because I think they are really doing phenomenal work. In my case, they have absolutely created one more burn surgeon in the world."